Reviews
Customer Reviews
Write a Review
Ask a Question
Pleasantly surprised!!
As a 32DDD bathing suit shopping is the worst thing in the world. I got this top and was very very nervous it wouldn't fit at all. I'm SO happy with the fit. I always struggle bc I need a S/M for my rib cage but a L/XL for my boobs. I got a medium and it has a great amount of coverage and is tight enough to keep me in the suit. Overall, very happy with this top!!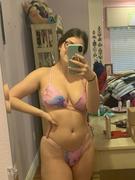 February 2021
Sexy
I'm typically a small, but you must size up in these bottoms. I bought a med and they were perfect.They are sexy and fun!
February 2021
Cute
Fits perfectly and the design looks fun. Definitely wearing it for my holidays :)
December 2020
love the Delia print!
I love the Delia print as soon as I saw it and went back and forth on which style top to choose. At this point (late in 2020), most of the styles are completely sold out so I only had so many options...BUT I thought the Francesca was something different since it was triangle style in a bralette fit. I read all the reviews and went ahead and ordered the last medium because almost everyone mentioned it runs a bit small. I'm a 32C (around 33" bust) and the medium fits but I could have definitely gone with a small as it's a tiny bit roomy on the band. Overall it still looks amazing and I paired it with the Nick bottoms. I'm so glad I got this print as I'm not sure it'll be around in 2021! This was my first Frankie's purchase and the quality is there for anyone skeptical on the price.
October 2020
great swimsuit
great swimsuit, the color is beautiful
August 2020
Cutest Pink Bikini Top
I was so, so, so excited when they restocked the Francesca set — it's so dainty and flirty! I originally bought the top in S, but later bought M which fit me better. I'm usually S in Frankie's tops (32B/C), but realized in hindsight (the S didn't fit me well, so I rechecked frankiesbikinis.com) that the sizing chart for this style actually sized me as M. Other than that, I love this top (the whole set really).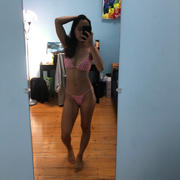 July 2020
So flattering
Love it! The style is great and the print is so cute
July 2020
omg. obsessed. absolute best purchase ever.
I go back and forth on expensive bikinis – is it worth it? does it really make a difference. um yes, it really really does. could not be happier with this swim suit. it's darling, so well designed, beautiful print (I got the pink flowers). a quick glance tells you that it's clearly an expensive well made swimsuit. the quality is amazing, it's sooo flattering. I'm a 34b and got a small top bc I wanted that tight fit, and I wear a size 8 pants/41 inch hips and got a size large bottoms. they fit perfectly, and don't cut in in the slightest. buy it, you need it!!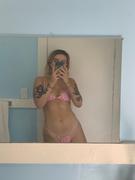 July 2020
Very cute! But a bit small for larger boobies
I'm a 32D and this top fits great around the band but is a bit small in the cup area. A medium would've been too big. This top is best suited for a B/C in my opinion. If you're bigger chested, you just have to be careful for unintentional slips! Very good quality and beautiful pattern!
July 2020
Not good for larger bust!
I ordered a large originally and it didn't fit my rib cage so I ordered a medium instead. It fits but I do not feel supportive at all. I am a 32DDD...love this top, great for lounging around but can VERY easily cause a nip slip. I have to be careful wearing this top. Great for flat chested humans!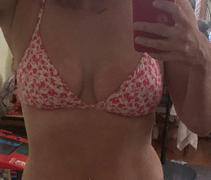 July 2020