LA based fashion brand Frankies Bikinis is gearing up to release a very special collection - the Pride Collection - on June 17th, in an effort to give back and support our LGBTQ+ community - something very close to our founder and creative director Francesca Aiello, her family and the brand. "I was the first person my brother came out to at 18-years-old, and since then it has always been on my mind to find a way to give back to a community that has been there to support and guide him. I have been fighting alongside my brother and this community, and will continue to do my part to use my platform to educate, to speak up, and to demand change" says Aiello. The charitable brand will be releasing a Pride Collection, and 20% of the proceeds from those sales will be donated to Stonewall Community Foundation, an organization who is taking incredible strides to support the LGBTQ+ community.
Frankies Bikinis is a brand known for pushing and supporting a message of full-circle inclusivity and equality, and that does not stop at body inclusivity but includes fighting against the injustices people are continuing to face in the world today. Executive Director of the foundation, Jarrett Lucas says, "We see this partnership as a powerful way to invite younger generations to engage in LGBTQ+ identity in a meaningful way and demonstrate allyship. As a brand, Frankies Bikinis celebrates color, bold individuality, and confident ownership of our own bodies; that is a mission Stonewall can get behind". 
Lucas reminds us that, "As we move into Pride Month this year, it's crucial to remember that Stonewall – our namesake, and the catalyst for the modern LGBTQ+ Movement – was a riot against police brutality, just like we're seeing today. Protests are consciously intended to disrupt, to make people uncomfortable, and to force those on the sidelines to confront the injustices that our communities are facing. And, if you don't let up, protesting works! Over the years, the LGBTQ+ community has had many wins as a result of our ongoing protests, though we still have a long way to go until we achieve full equality. And the same applies to today's Black Lives Matter protests – we're already beginning to see the first instances of systemic change as a result of these nationwide protests, and we're not letting up anytime soon". 
Stonewall Community Foundation has been actively responding to emergency needs during COVID-19, and greatly assisting the LGBTQ+ community during this time of need thanks to their fund partners. Their emergency relief fund has assisted in a variety of things from providing Zoom licenses to organizations in an effort to connect thousands of older adults who are single or live alone, facilitation of online support groups and virtual management, providing mobile meals, and much more. From the very young to the elderly, they have been working to ensure that those isolated and vulnerable in the LGBTQ+ community can survive and thrive. Aiello states, "I am proud to stand with Stonewall in this fight towards equality. It is my duty as a business owner and as a human being to use this platform to shed light not only on the injustices that this community is still facing today, but to highlight and spread awareness of organizations like Stonewall that are solely created with the role of providing endless support to them as well".
Tia Striped Terry Bikini Bottom - Positano Stripe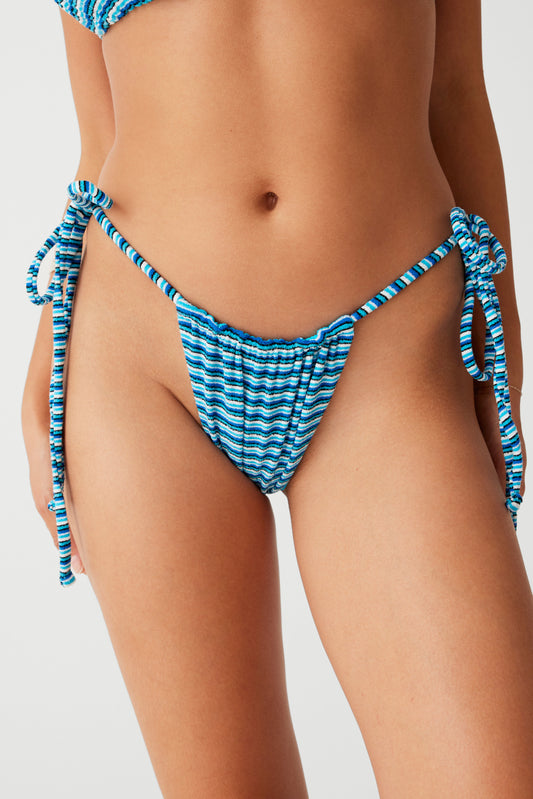 Tia Striped Terry Bikini Bottom
Regular price
Sale price
$80
Unit price
per
Rose Terry Romper - Positano Stripe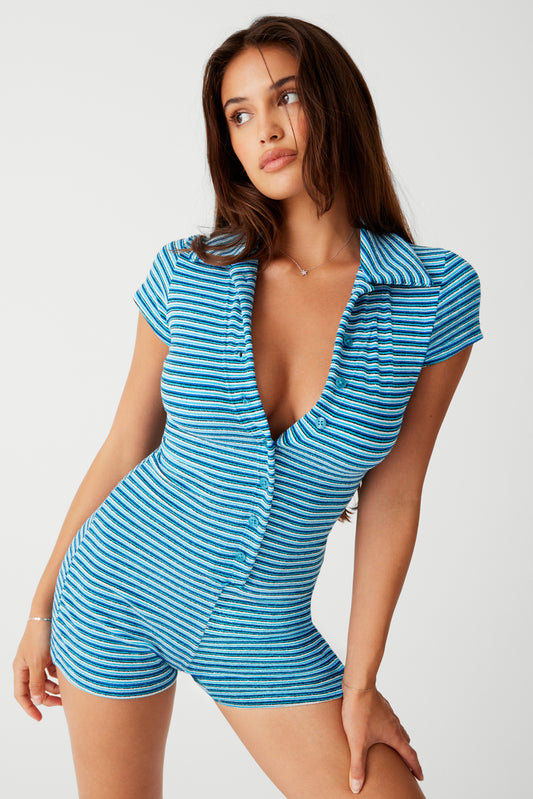 Regular price
Sale price
$135
Unit price
per
While there might not be the yearly city-wide physical celebration this year, it is important for Francesca and her brand to continue to celebrate the LGBTQ+ community, and even more important than ever to continue to show support however we can. "My family and my company are two of the most important things in my life, so being able to design a Pride Collection that gives back and supports our community has been something extremely meaningful to me. I am so happy to be able to partner with and shed light on a foundation that is a constant source of support to not only the LGBTQ+ community, but to ALL communities fighting for equality," says founder and creative director of Frankies Bikinis, Francesca Aiello. "Our partnership with Frankies Bikinis puts our work for the LGBTQ+ community in front of a new audience, one that is influential and conscious of how they show up in the world. And when it comes to Stonewall's mission of raising awareness and money for the needs of LGBTQ+ people, more is more. More grants, more scholarships, more connection and leadership," says Lucas.
The 9 piece Pride Collection will be available to purchase at 9am PST on Wednesday, June 17th at www.frankiesbikinis.com. Filled with velvet bikinis, sweatsuits, crochet, and tie dye - there's surely something for everyone. In partnership with Stonewall Community Foundation, 20% of the proceeds will be donated to the organization in an effort to support their mission to assist the LGBTQ+ community as well as specific covid-19 related projects they are spearheading.