Reviews
Customer Reviews
Write a Review
Ask a Question
so cute
such a fun top. fit was great. im a 32dd and medium was perfect. returned only because i wanted more cleavage to be shown, but other than that i loved it. obsessed with the terry material
July 2020
This is Everything
So I don't wear bikinis. I'm a one piece kind of girl and when I saw this bikini top and bottom, I had to take my chances!! This is the first bikini top I purchased in years and it was more than perfect!! I got a large top because I am a 32DD and it fits like a glove. I highly recommend!
July 2020
IN LOVE
The phoebe set is my first frankies bikini. The terry fabric is what sold me and honestly this bikini is amazing!! So worth it. It's sturdy and lined properly so it's not see through. It's so comfy too! The top gives a nice push to keep your boobs together. I'm a 32D and I normally wear smalls in all my tops and bathing suits because I like my tops tight. I would probably fit a medium too but it won't give me the cleavage I want since there's no padding so the small is perfect! I wanted it in all colors but I want to try other frankies bikinis since I fell in love with my first set!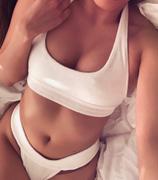 July 2020
terry top
love it. wish the bottom fit as well as the top does
June 2020
So flattering
Feeling like a chubby seal but frankies make me feel fine
May 2020
Awesome!
It looks so good on my body and is so comfy and pretty! I am a xs/s and know that normally most frankies bikinis I buy run a little small but I'm not big enough to get a medium. So it's a little tight but not enough to feel uncomfortable in it! I usually have a bigger issue with bottoms rather than tops. Still love it! :)
May 2020
Such a comfy top!
Just got this top and I love the feel of it. It's really soft and has a flattering fit
April 2020
LOVE
So comfortable and so cute! Can't wait for summer to roll around so I can wear it to the beach! I got a small (I'm a 34B) and it fits perfectly.
April 2020