Reviews
Customer Reviews
Write a Review
Ask a Question
Filter Reviews:
color
Quality
style
suit
company
swimsuits
price
brand
reference
bottom
Comfiest bathing suit ever
I've heard lots about frankies bikinis but always held off because of the price. I finally caved and purchased one and let me tell you this... I will be purchasing a lot more. 100% worth the cost i've never worn such comfy and still stylish bikini before. All of my friends are obsessed too.
June 2020
Dreamy Bikini
Perfect material, perfect fit! Def recommend if you like cheeky style bottoms. Velvet material is so soft, you don't even want to wet it. I am 5'8 with wide hips and medium was enough coverage for the area in the front. 10/10
May 2020
Amazing quality, fit, and style
Not only does the suit fit perfectly just as all the frankies bikinis do but this style and the color is truly one that is so incredible. It's so flattering and multi-use for the top is perfect to have the suit fit and be used in all different styled ways according to what and where you're using the suit for! The quality even on velvet for most swimsuits is not that fantastic and never seems to hold up well, but the effort and care the company puts in to every piece they have made is just unreal. I only wear frankies because of the high quality! I'll pay any price for a bikini as long as it's worth it and this is the only brand that has ever consistently made the most gorgeous and flattering suits but the best quality holding up so well for all the suits I've bought through the years from frankies they each are just like brand new with how well they're made!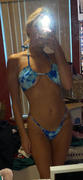 May 2020
LOVE
I absolutely love everything about this bottom! The color, the fabric and the fit are all amazing. The style is super flattering and is definitely a must have! So cute for the summer!!
May 2020
Love the color and fabric!
I love the suit! I wish my size was available.
May 2020
Very cute
Love it!! The color is beautiful, true to the picture For reference I'm 5'5 about 150
May 2020
Love
Love the fit and i love the material, very good and high quality
May 2020
Super cute
Love the tie dye look! These are super cheeky. I'm 5'5 and 115lbs. The small fits great. If I can ever go to the beach again these will be my go to.
May 2020
Worth it
Amazing quality swim suit and fits perfect!
April 2020