Reviews
Customer Reviews
Write a Review
Ask a Question
Filter Reviews:
Medium
bikini
fabric
Quality
coverage
material
suit
print
Frankie
reviews
Such a cool piece!
I love this print! It's super tropical and fun, and the top fits great. Super soft material and so flattering!
July 2020
Teeny Bikini
Love love love this print! Quality is always top notch from Frankie's and this doesn't disappoint. However for the price, you get very little material. Like very little. I am a 32G, 5'-7", 160lbs. I ordered a large and it's barely enough to cover my (TMI) areolas. It's wearable in the right environment... but def not family friendly.
July 2020
Love this bikini!!!
Love this bikini!! Super flattering and the color is beautiful!
July 2020
So flattering!!
Love love love this top and got matching Nick bottoms with it. So flattering and such nice material. Lays just right and stays put!
June 2020
Love it!!
This is my favorite bathing suit company ever! Such great material and cute styles :)
June 2020
Lovely and flattering
So cute I love the patterns.
June 2020
VERSATILE AND CUTE
Frankies sent this top tied in an alternate style and made me realize that it can be tied in so many different ways. Because this top is so adjustable I can swing between sizes S and XS depending on how much coverage I want. I have this top in three colors and they're so vibrant and cute.
June 2020
Very cute but a little smaller than expected
this top is super soft and so cute. According to the "find my size" I was a large so I ordered a large even though I usually wear a medium in most things. It feels supportive and comfortable when I try it on it just does not have a lot of coverage and was much smaller than I expected it to be. Still keeping it it is really flattering I was just surprised and maybe would have sized up.
May 2020
Best bikini ever!!
Great quality and amazing print it's by far my favorite print i have in a bikini! the only thing that could make it better would be a slit so i could add pads. I also sized up i'm usually a small but i got a medium for more coverage.
May 2020
Beautiful pattern !!
Sooo cool to look at the fabric and see all the lovely details. I live on Oahu but go to Big Island a lot so this suit is really near and dear to my heart. I receive compliments every time I wear it to the beach :) also the cut of the suit is so simple and comfy! I normally would've bought a medium (I'm like a 32C), but they were sold out. I saw in the other reviews it runs small so I figured a large would be fine. The large fits pretty well! Frankie's tops definitely run small. I'm curious if the medium would've fit better but the large is totally fine.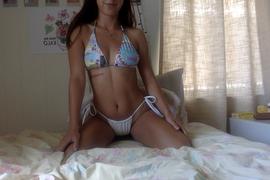 May 2020