Reviews
Customer Reviews
Write a Review
Ask a Question
Filter Reviews:
CUTEST
styles
Quality
love
amount
bottoms
Beautiful!
These bottoms are beautiful! The color is great and the velvet is so pretty and unique. I love how adjustable they are, you can wear the ties super high up on your hips, or lower down, and the front and back can be adjusted for more or less coverage. Love it!
September 2020
Cute & V Cheeky
Love them! They are pretty cheeky if you are not comfortable with a little more showing then normal. Super cute print and sexy fit!
August 2020
Super Cute
My GF loves it. Cute and the material is very comfy
August 2020
Absolutely love this bottoms
I absolutely love these swimsuits!! I cannot wait to go on vacation! I am waiting for the Nicola top to restock so I can complete my set!
August 2020
perfect beach bottom !!
i've never worn a velvet bikini before and i always thought it would feel kind of uncomfortable but that is not the case for this one. i absolutely love the color and fabric on this bottom. a must have !!
July 2020
SO comfy
this is the softest material! love the print.
July 2020
Love the velvet material
I am just in love with the velvet styles, I have bought every single option of the velvet suits in all different styles and have gone in the ocean and pool in all of them, the material holds up so well and drys so quickly going back to its feel in no time. I love these bottoms and love the fact that the scrunch draw side ties can be worn high waisted or low rise. The color and feel is just amazing! I have ordered this style in the purple tie dye as well and it does run just a tad bit bigger but I like the fact that it does because I can adjust the suit to how I want it to be worn that day but the sizing is nothing drastic to where it affects the fit!!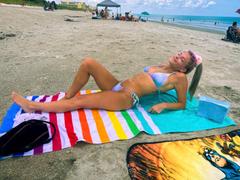 July 2020
Adorable! Don't miss out on these. Love the tie dye!
These are very cheeky in the back, but cover plenty in the front. It may not be the suit I will wear to the family pool, but I will on the boat with friends. It was true to size. I wear 24 in jeans, hips 34", 120lbs and I wear a xs or small in their suit bottoms.
June 2020
Cute but minimal coverage
Runs small size up if you want more coverage. Swim bottom was a thong
June 2020
Liam bottom
Shows my butt off which I really love and it fits so nicely
June 2020