Reviews
Customer Reviews
Write a Review
Ask a Question
Filter Reviews:
pants
person
size
large
website
brand
video
shorts
clothes
pride
amazing!
So Soft and cute I love it!
July 2020
Aiden Sweatpant
Absolutely love it!!
July 2020
RUNS SMALL AND HAD HARDLY ANY GREEN IN IT (COLORS NOT SO VIBRANT)
The feel of the product was amazing! However it unfortunately fitted me way too small, but I do like my sweats a bit oversized. On the other hand the tie dye was smooth so it didn't look patchy like most cheap tie dyes do, but the colours weren't as vibrant as the pictures on the website showed. They looked more like the colours in the video on the website. Also the yellow parts, which look like they fade over in a yellowish green on the pictures (which I liked) where just a pale yellow on my sweats. Sadly I had to return it, but the quality was ok!
June 2020
Love it
Really cute and comfy but runs very small, I would size up because I like my sweats to be loose.
June 2020
SO CUTE - size up by at least 1 size
I love the Pride collection tie dye colors. I am 5'8" and usually wear a 27 (or 28 in Levi's) and the large was perfectly snug on me in the waist and ankles. They are soft and I love the slightly snugger look especially with the matching sweatshirt, knowing I couldn't have fit in a medium I feel a little sad that someone bigger than a size 6 can't enjoy these! I hope they get made in XL and larger sizes so everyone can access them. They are so cute!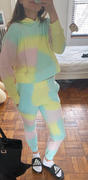 June 2020
Sizing
It's so so cute in person but the sizing is a bit off. I'm normally a 6-8 in shorts/pants because I have a big butt so I sized up and bought a large but it looks like leggings on. After walking around for a bit they adjust to your body and loosen up but I was shocked at how small they were for a large. If you have a bigger butt—it will fill the sweats out so size up!!!!
June 2020
Love these beyond measure!
Love the slim fit, and after reading all the comments, they fit exactly as anticipated. I like my clothes fitted, and these are just that… even the ankle is tight so you can pull them up a bit from your shoes and they stay, not slip down. I think there has been a lot of engineering to make them the way they are, I love them!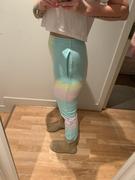 June 2020
Runs very small
These run so small. I love Frankie's and know the brand a bit so already sized up to a large. I'm even wondering if they're mismarked...? I'm 5'9 and size 27/28 in jeans and the large is like yoga pants not oversized at all. Super cute otherwise but wishing there was an extra large size or that they made them bigger.
June 2020
Fun with Funfetti
I love my funfetti sweats!! The sweatpants run really small so I ordered a large - the waistband was still tight but breathable and had a loose fit with sizing up two sizes from what I normally wear. For reference, I am 5'0" and have a 25" waist.
June 2020
Cute and flattering + pockets!
The elastic on these is a bit too tight on the ankles. I'm hoping it will losen up over time. Otherwise it's a cool item and the quality is nice.
June 2020