Reviews
Customer Reviews
Write a Review
Ask a Question
Filter Reviews:
fabric
Quality
frankies
size
bikinis
reviews
back
Georgia
matter
armpits wrinkles
best top for support
LOVE this top. I don't have huge boobs, but midsized and i LOVE the support it gives me. fits so well, hold everything in place, i NEVER have to adjust this bathing suit while wearing it all day long. i love this color, but wanted the brownie more so I exchanged it for that color but i'm so satisfied. Sizing is the same as the cole style, 5'4", ~125lbs, 34B-C bust and a medium is perfect.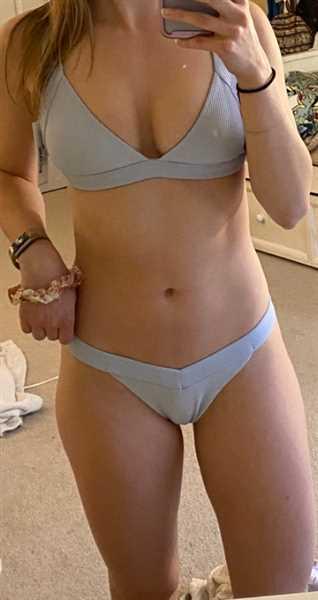 May 2020
Cute but small
Quite low coverage for someone who is heavier on top. But the fabric and color are lovely.
May 2020
Georgia Top
Absolutely love the color!! Frankie's quality and material is always the best and the bikinis never fail to look good on my body. The top is a little tight, but I knew this reading the reviews and knowing I myself having larger boobs with a small rib cage, so I decided to purchase the medium.
May 2020
Correct size but didn't fit right?
I had the same problem as another reviewer. I'm 32DD and the top was so beautiful but wrinkled strangely under my armpit area, like there's too much material there. I tried to adjust the straps and nothing would fix it. So sad, because I really adored the material and the concept, just didn't execute well on my body.
May 2020
Sadly too small
I am a 32DD and was hoping based on previous reviews that a size L would fit but sadly it was too small. That might have been because the triangle shape of the bikini just didn't flatter my frame as well. Such a shame!
May 2020
High Quality
This is so buttery soft and so high quality! The hardware feels sturdy. I love!!
May 2020
Wanted this to work
I was really excited about this top because I have a smaller frame and a large chest (32DD-DDD). From the reviews and description it sounded like a perfect comfortable, supportive, and sexy top. While I like how the top fits my boobs really well, the band rides up my back no matter how I adjust the straps and the fabric under my armpits wrinkles and gapes in a really unflattering way. I think sizing down would solve the loose band and excess fabric, but my chest would pop out of any smaller size. Unfortunately this is a regular problem I find with tops not accommodating my bust-band ratio. The rib fabric is incredible and will definitely be trying an alternative! Already have two Frankies that I love.
April 2020
So soft
Love this suit! It is so soft and so flattering.
April 2020
Bikini top
Great fit! Amazing color
April 2020