Reviews
Customer Reviews
Write a Review
Ask a Question
34 B
I'm a 34 B and this top fits fantastic. It lifts the girls up yet is super lightweight. Material is thin so be aware of nipples showing. Nevertheless, I still love the sit and it hugs my girls in all the right places!
March 2020
Worth the money!
I have a million bikinis and I'm so happy with my purchase! Frankies are pricy, but the quality is def there. I got the Georgia top and Cole bottoms in brownie. Both mediums fit perfectly. I'm 5'2" and wear a 34b. The color is a perfect and the material is nice and stretchy. Love that the tops adjustable too!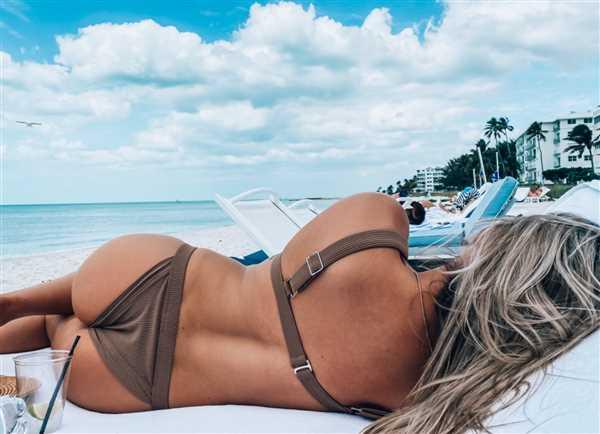 March 2020
Great!!
Love this top! So comfy
March 2020
Fits Great!
Fabric was so soft and made my body look great!
February 2020
Nice top
This top is very cute and flattering. There's a little too much fabric on the armpit side of the triangle but otherwise it's great. Very supportive and very soft fabric.
February 2020
perfect fit!
loved this swimsuit! the quality is better than any bathing suit i have ever tried and is worth every penny!
January 2020
Sooo cute!!
This top is so flattering! It's super secure and also just gives you a nice lift without being too much. I would definitely wear this as a bralette too! 5/5! Highly recommend!!
January 2020
Georgia top
AMAZING. Your bathing suits fit so well. they're so comfortable. If I had my way, all of my bathingsuits would be from Frankies bikinis! They're always something a little different. I feel so good in my bikinis!
December 2019
So flattering!
This top is seriously so flattering on any cup size. I am very small chested, but this top lifts and pushes exactly where needed. My friend also got this top who is larger chested and it holds her in everywhere she needs. So comfy and flattering on everyone! Looove it, gonna order in a few more colors
November 2019
SO CUTE
I'm obsessed with this top! It's so flattering and fits perfectly and it's sexy while also supportive. I'm usually between a S and a M but I ordered a S and I love it. I probably could've gone with a M since its adjustable so maybe size up if you're deciding between sizes but you really can't go wrong. So cute and worth the price!
November 2019