Reviews
Customer Reviews
Write a Review
Ask a Question
Filter Reviews:
Medium
everything
swimsuit
bottom
someone
piece
string
stays
Shows
Croft one piece
I love this piece and decided to keep it but a medium might have fit a little better for someone 5' 7" like me. I always wear a small but for a longer torso medium is better.
July 2020
Buy it now!!!
I've legit been looking for a one piece that looks good on me for YEARS and I finally found it! I'm a curvy girl, a natural 32 DDD with a small waist (26 inches) and a big booty (42 inches) hip is 34 so when I wear a normal one piece there's gaping in the front from my boobs AND gaping in the back from my butt so I look twice a wide from the side as I actually am BUT with this suit I have ZERO gaping at all! The tie part for the bottoms eliminated that and the top part holds my girls in perfectly! And that's a rarity in itself lol all the while still feeling cute and sexay! I can't recommend this suit enough! Worth every penny I got a medium for reference the bottoms in the back hit low and I'm 5'4" with really long legs so my natural waist hits higher than most which might be why the bottoms hit lower on me:) but if you're taller than that I'd size up to a large :) 
July 2020
You NEED THIS SUIT
If you're on the fence, get it! So freakin sexy no matter your size. I'm personally around 155lbs 5ft 7inch and athletic built with D's - for reference normally size 8. I purchased a large In this suit, I was in SD and tired the medium and it was a good fit and fell in love with this, but wanted it to be a little more coverage on my booty.
June 2020
YES. JUST YES
I was fortunate enough to win frankies healthcare workers giveaway and I used that to purchase this one piece and OMG. I have never felt sexier. I have an athletic build with 34DDD and a bootay so I sized uo only because i wanted some more coverage on the cheeks, but I would say it is true to size if you dont have bigger curves. The material is fantastic, so well made. Ill definitely be buying more from frankies.
June 2020
Gorgeous
So beautiful!! I am never disappointed with Frankies!! It fits great and looks amazing on. love the high hip! Can't wait to be able to finally wear this on a beach soon, hopefully!
May 2020
Curvy princess
I love the material and simplicity of this swimmie. Definitely makes me feel confident and hits my curves in the right places!
May 2020
NEW FACE ONE PIECE!
I looooove this swimsuit! I have the hardest time finding one piece swim suits because of my long torso so was a bit skeptical on sizing on this one. It fits PERFECTLY! It helps also that the straps are adjustable. I am normally an XS but sized up due to my torso. My measurements: 5'4 108LBS 32B
April 2020
Super hot one piece
I've been really loving the hot one piece movement and WOW is this one a winner. A one piece with really high cut leg line that is slimming in the front and super naughty in the back. Im 5'8" and 145 lbs. Waist 27" Bust 33" Hip 38". In the past I've had to buy up a size in a Frankie's one piece because I have a long torso and I needed the length in the suit. For this one I got a medium (used their instant messaging service and they suggested a M, they were right). The medium fits me perfectly in the under bust and there is wiggle room for the fit because the length in the suit isn't fixed. I tried keeping the waist strap horizontal but found it fit my shape better and wore more naturally when I let it sit at my natural waist in the front. This suit makes me feel fabulous. I hope it will for you too!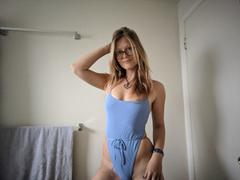 March 2020
New go to one piece
Wow! I honestly wasn't expecting to love this as much as I do, it's super simple but still sexy and flattering. I also like that you can adjust the coverage on the back. I'm 5'5" 25 in jeans and 32 B and the Small fit perfect
October 2019