Reviews
Customer Reviews
Write a Review
Ask a Question
Filter Reviews:
bottoms
Medium
bikini
frankies
nipple
material
color
exception
34/36
strapless
Comfortable & Held Up for 34D
I am 120lbs and a 34D. I typically wear a large bikini top, but decided to size down to a medium for a tighter, more held together fit and I'm glad I did. Doesn't really give support if you have C+ chest, but it does stay put! I was able to do a cannonball into the lake and hoist myself up onto a tube with both girls nestled securely into the top.
July 2020
Cute top
Nice material, though be careful in pools/hot tubs as the material pulls easily. I am a size 36 b and the small fit just fine. Nice and snug with minimal slippage. Only complaint is that it is a bit showy in the nipple area, especially in the white (not see through but you can see the outline of my nipple)! I might have purchased a darker color instead if I had known that.
July 2020
Best tube top
Frankies always kills it and this was no exception. I was afraid to try a tube top as I've never thought strapless was flattering on me and I was afraid of slipping but I think this may be my new favorite bikini. I am a 34/36 B and I bought a small. By the way I paired with the Cali bottoms in medium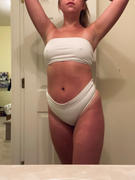 June 2020
For like a glove
No issues of slipping and falling down love the material
May 2020
Know before you buy
Idk y'all I'm pretty bummed. This top is super cute but it's definitely fashion swim only. On my first wear I gently leaned up against the side of the pool-a normal concrete edge at a well manicured pool and I wasn't moving around- and the back is now ripped to shreds. Looks totally raggedy in the back now which is SO disappointing because of the price. So, know before you buy, wear this to the beach, or a deck chair covered with a towel ONLY. Vegas pool party? Nah. The fabric can not withstand sitting on poolside surfaces.
May 2020
New favorite!
I've always struggled to find strapless tops that are snug enough but also large enough to hold my DD/DDD boobs but this baby can handle it! It's actually more comfortable than a lot of tops - gives my shoulders a lil breather. It's so flattering. Love the fabric and it's super comfortable. Looks great with the Jenna bottoms and I like mixing and matching with my Sky ribbed bikini as well. I would totally wear this out as a top. I went with the reviews and ordered a size down and it fits perfectly!
May 2020
Super fast and good quality
Was exactly what I was looking for. I bought the Jenna too and bottoms to match and it was the perfect high waist soooo flattering I bought two more suits in different colors
May 2020
Great Quality!
A really great quality bathing suit! Material is nice and thick and super comfortable. Love it!
May 2020
Cute but questionable durability
I really like this top. The color, material, and fit are awesome! However, I've only worn it like 3-4 times and the top is already starting to fray in some spots.. Maybe it's this specific material? I've been swimming in fresh water and then I lay on a towel for a bit and don't recall catching it on anything. I don't play rough in it, so I'm not sure what's going on. Hopefully it lasts longer, I really like it!
May 2020